Careers at War Child
War Child is the only specialist charity for children affected by conflict. 
With high levels of commitment, courage and creativity, War Child colleagues work hard to keep children safe, help children to learn and overcome their experiences, and equip children with skills for their future.
If you share our values and believe that children's lives should not be torn apart by war, we'd love to hear from you.
Our Team
We have around 300 employees working in our five countries of operation, supported by a team of around 70 people working from the UK.
War Child people in all our places of work are noted for the commitment and passion that we bring to our work. We embed our values in our culture and everyday processes.
This supports the creation of quality people management standards throughout War Child, guided by principles of fairness, integrity, transparency and confidentiality.
Fundraising and Communications 
Our Fundraising team is made up of three teams: supporter engagement, partnerships and philanthropy, and fundraising engagement. Our fundraising is predominantly done through a one-to-one approach with individual fundraisers from the War Child team identifying and developing relationships with donors, partners and individuals within a specific industry, such as gaming and music and the creative industry. We strive to build and maintain relationships with our supporters which are based on trust, transparency and accountability. 
Programmes and Advocacy 
Our Programmes and Advocacy team is made up of specialist teams dedicated to programme quality, programme funding and operations, policy and advocacy. Our colleagues working in our country programmes are based in one of our six countries of operation in Iraq, Afghanistan, Democratic Republic of Congo, Ukraine, Yemen and Central African Republic. We look forward to a world in which the lives of children are no longer torn apart by war. This is a vision that can only be realised through the collective actions of children themselves, communities and their leaders, organisations like War Child, governments and key decision makers. 
Resources 
Our Resources team is made up of three specialist teams in finance and IT, people and achievement, and audit and compliance. Our support functions are essential for the successful delivery of our mission, to protect, educate and stand up for the rights of children caught up in war.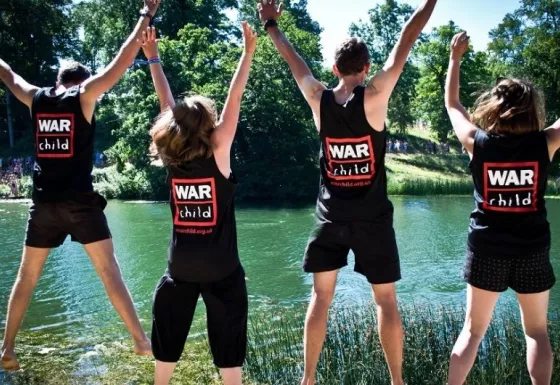 Our benefits and flexible working
We offer a lively, collaborative, creative and supportive working environment. people are supported to engage in a balanced work and personal life, enabling them to flourish and reach their potential. Our aim is for a flexible working culture to be the norm in how we do things and for this to help us deliver our mission. Therefore, from day one, we are happy to consider flexible working requests.
Flexible working – all our people are able to request flexible working, regardless of their length of service. 
Salary – we offer a competitive salary based on defined job roles and grades. 
Annual leave - 28 days (pro-rata), plus bank holidays which increases by one day per year on your work anniversary, up to a maximum of 33 days. 
Pension - all eligible employees automatically enrolled into our Aviva Pension with a 5% employer contribution, with minimum employee contribution. 
Family - we offer enhanced maternity, paternity and shared parental leave. 
Volunteering - all employees are granted paid volunteer leave per year to volunteer with a charity of their choice. 
Health and wellbeing - employees may take advantage of a healthcare cash plan and a range of wellbeing initiatives and training. In addition, all employees have access to free, confidential one-to-one wellbeing consultations with trained counsellors. 
Learning and development - War Child is dedicated to the investment in learning and continuing professional development for all our employees.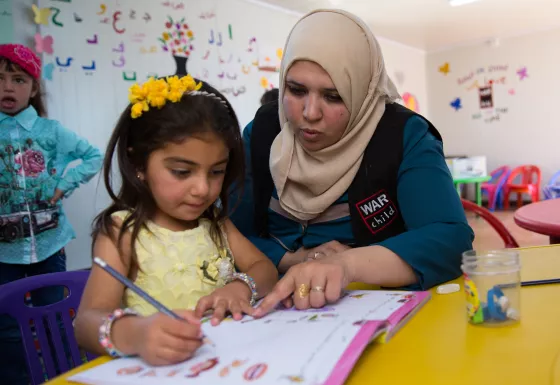 Our values
Accountable to children
Children can rely on us to respond to their voices and to treat them with respect and dignity. Nothing is more important than the safety and security of our staff and the children and communities we support.
Find out more about accountability and what it means to us.
Bold
We use our passion and creativity to deliver high quality evidence-based work designed to maximise our beneficial impact for children in conflict.
Committed to each other
We support each other and our partners to achieve ambitious goals and to be the best we can be. We are honest and open with each other, sharing our successes and confronting our challenges.
Find out how you can get involved.
Transparent
We expect to be held to account by our supporters and programme participants and we respond with openness and honesty.
Read our latest annual report and financial statements.
Safeguarding
Children and youth are at the centre of everything we do, which is why we have robust child safeguarding policy, procedures and practices in place to protect all children who come into direct, or indirect, contact with War Child, from any form of abuse, neglect or exploitation.
Read more about safeguarding at War Child.
Diversity and inclusion
War Child is committed to ensuring that all our people are treated fairly in an environment which is free from discrimination.
Read our Diversity and Inclusion policy.
Your data
Learn about how we look after your data when you apply for a job with us.