The studio behind the best-selling football management simulation game Football Manager and a close partner and friend of War Child.  
Starting in 2006, our partnership with Sports Interactive was the beginning of our work with the games industry, showing us the impact the industry could have in supporting us.  
Ten pence of every copy of Football Manager sold goes to War Child; banners are also placed in gameplay to increase the brand's profile.
To date, our partnership with Sports Interactive's Football Manager has raised over £1.5 m to help War Child provide support to children affected by conflict.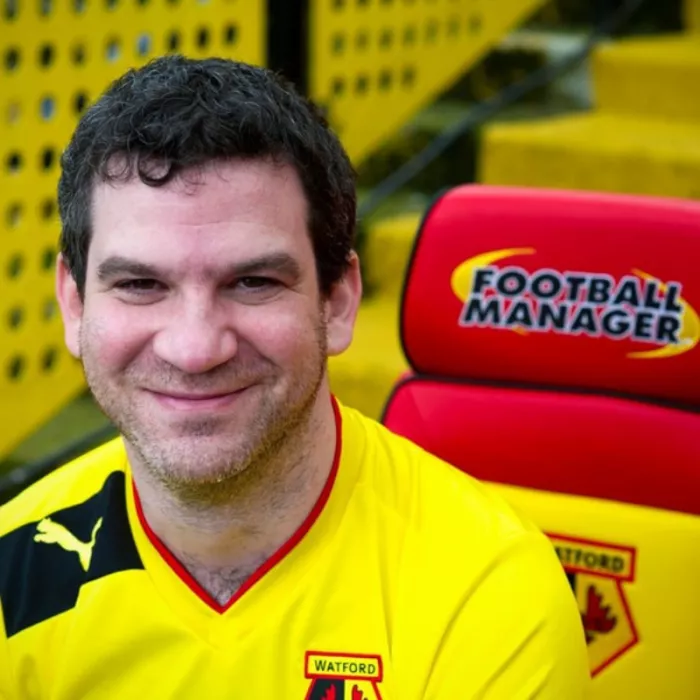 I'm so happy that Football Manager has been a part of War Child's journey and raised more than £1.5m to help more children in desperate need.
Miles Jacobson OBE, Studio Director at Sports Interactive.
War Child x TikTok x Sports Interactive
In June 2021, War Child, Sports Interactive and TikTok ran a ground-breaking 3-way promotion.
The "FMFC Away Jersey" promotion brought together the legendary Football Manager game, a raft of War Child's incredible supporters and TikTok's fun and unique platform and hashtag challenge! #WearItfForWarChild launched on 15th June 2021, exclusively on TikTok and went on to amass over 45 million views. Supporters of TikTok, including Ed Sheeran, Rinsola Babajide, James Bay, Alex Iwobi and Jack Savoretti wore the shirt and posted their videos on TikTok.
500 lucky fans were able to buy the (real life) limited edition FMFC Away Jersey, bagging a highly sought-after shirt that will never be made again.
War Child is proud of this innovative campaign which raised a six-figure sum to help fund our work helping children in conflict zones and thanks its partners everywhere in the world for their support.  
Streaming with Football Manager 
In 2021 we developed our relationship with Football Manager further, by collaborating with the talented and passionate Football Manager streaming community on Twitch.
As part of our Sporting Champions campaign in July, a host of Football Manager streamers including Lollujo, ZeaIand, and Clayts ran charity streams throughout the week. Sports Interactive designed a custom save file so streamers could play as a bespoke "War Child Football Club" team, and we challenged the participants to get as far as possible with the team during their stream.
In November, Football Manager themselves hosted a charity stream as part of our Game Action campaign, where they unveiled the Xbox version of Football Manager 2022.
We'd love to hear from you
If you'd like to learn more about War Child's work with Sports Interactive or about how we can work together then get in touch by emailing [email protected].