Introduction
After 40 years of violent conflict, food insecurity, droughts, earthquakes and poverty, Afghani children and families now face one of the worst humanitarian crises in the world. 3.5 million people are currently displaced within the country, and parents face unimaginable decisions that mean their children may have to work from a young age; or are forced into early marriage to help their family survive.  
These devastating conditions pose serious risks to the education, physical and mental wellbeing of children living in Afghanistan. Since the fall of the western-supported government, the future of many young girls is now also particularly at risk and natural disasters like earthquakes that have taken place are only worsening the situation for families experiencing extreme hardship.  
Today, it is estimated that 24.4 million people are in need of urgent humanitarian assistance in Afghanistan with 12.9 million of those being children. 
What is the population in Afghanistan? 
40 million  
What are the most common spoken languages in Afghanistan?  
Pashto and Dari 
What is the capital city of Afghanistan? 
Kabul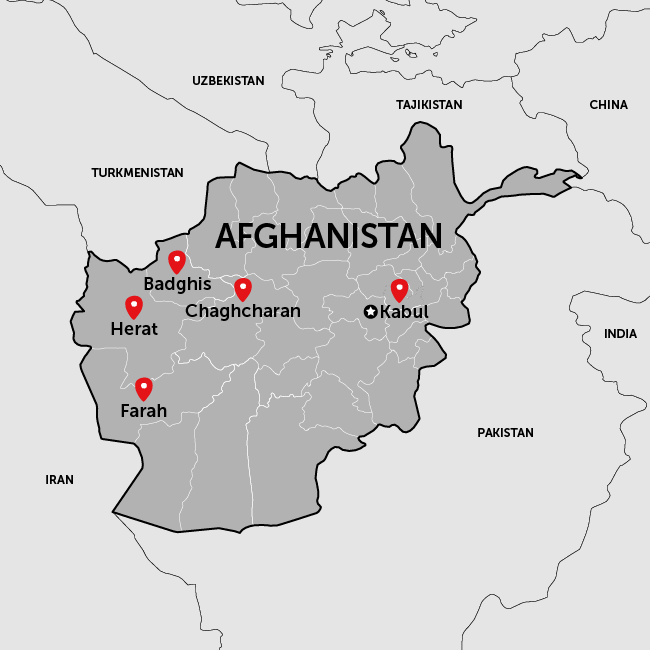 *Red pins show areas where we work. 
Afghanistan Today  
In 2021, a long-standing rebellion by armed groups across the country intensified, resulting in heightened violence, conflict, and displacement of vulnerable Afghani people. This culminated in the fall of the Western-supported Kabul government in August 2021 and takeover of the country by the Taliban regime, causing the most dramatic shift in context  Afghanistan had seen for a generation.  
The economic crisis that followed has pushed millions of struggling families to the brink of famine. The new context has left families, particularly women and children, in dangerous conditions. With 3.7 million children currently out of school, the rights and safety of boys and girls across the country are under constant threat. Families are now living in extreme poverty and many children are facing malnutrition, as well as physical and mental trauma from the recent conflict. To complicate things further, a 5.6 magnitude earthquake and floods in most provinces recently struck Afghanistan leaving thousands injured, and exacerbating the already dire situation.