We are once again delighted to be the official charity partner for Record Store Day UK. Alongside 3 exclusive vinyl releases, we are so excited to also have a Limited Edition Rega turntable signed by Sam Fender available to win. You can enter as many times as you like and the more times you enter, the higher your chance of winning!
This years 15th anniversary RSD turntable is based on the multi-award winning Rega Planar 1. Made by hand in the UK, the RSD 15th Anniversary Planar 1, uses a high specification low noise 24v motor, handmade RB110 precision tonearm and factory fitted Rega Carbon cartridge. 
This special edition is customised with an exclusive RSD mat, RSD lid badge and RSD silk screen logo. 
By entering the Prize Draw, you are helping War Child UK support the unfolding crisis in Ukraine, as well as places like Afghanistan and Yemen, where millions of children are still in desperate need of protection from war and conflict. 
What's more, until 31 May 2022, we are running our Unlock a Generation appeal in which your donations will be matched pound for pound by the UK Government.
Please read through the T&Cs before entering.
The prize draw can be entered either via donating online or for free, by sending a postcard with the entrant's name, address, contact details to:
FAO: RSD, War Child, Studio 320, Highgate Studios, 53-79 Highgate Road, London, NW5 1TL.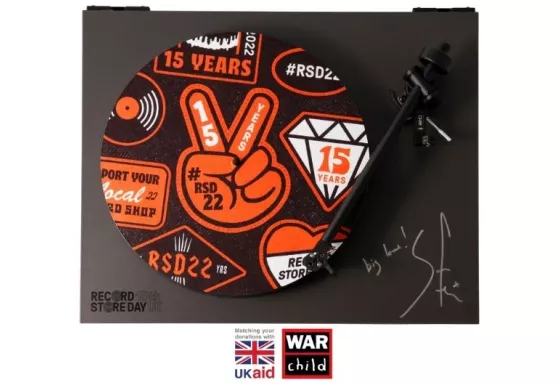 About Rega
Rega's initial success was built upon award-winning tonearms and turntables. However, from the late eighties, they have been producing complete hi-fi systems including loudspeakers, amplifiers, CD players and DAC's to name but a few.
Rega currently employs 130 skilled technicians hand-making a vast range of high performance, high-quality audio products all delivered with a lifetime warranty and exported to 46 different countries across the globe.
Record Store Day
Record Store Day is the annual celebration of independent record shop culture. More than 240 record stores are expected to take part in the 2021 celebrations from all over the UK. 
Thousands more shops celebrate the day around the globe in what's become one of the biggest annual events in the music calendar. Head to the Record Store Day website for more info.
More info on Record Store Day and the releases incoming this April here.