Humanitarian catastrophe
The death toll is expected to rise dramatically as children and families remain trapped under the rubble. Desperate searches are underway to locate at least 800 children who are currently missing, presumed dead or trapped under the rubble.
Over 1.4 million people have been forcibly displaced by the violence - the majority seeking shelter in the south. Yet, nowhere is safe in Gaza right now as airstrikes on shelters, schools, hospitals and aid facilities remain ongoing. As of 21 October, over 200 schools have been bombed, eight of which were used as emergency shelters for internally displaced people.
Hospitals that are still operational are on the brink of collapse due to shortages of electricity, medicine, equipment and specialised personnel. 60% of primary health care facilities in Gaza are no longer operational due to damage or lack of fuel.
Psychological impact
Layla, our staff member in Gaza, is currently in the south sheltering at a relative's house with 40 others - including her 10-year old son. She describes the psychological impact of the last 20 days on children...
First there was the evacuation. "All the people running in the street, the explosions... I remember my son telling me that he was barely able to breath because of how frightened he was."
Then, came the fear of being apart - even for a moment. "Fathers are being bombed as they wait in line at the bakery. Clean water and fuel is running out but we don't dare to leave."
"Children are showing somatic symptoms such as headaches, fever, stomach ache and vomiting because of the high stress and anxiety", she continues. "In the beginning, nighttime was the worst because of the heavy airstrikes and rockets. But now - both day and night are hell on earth."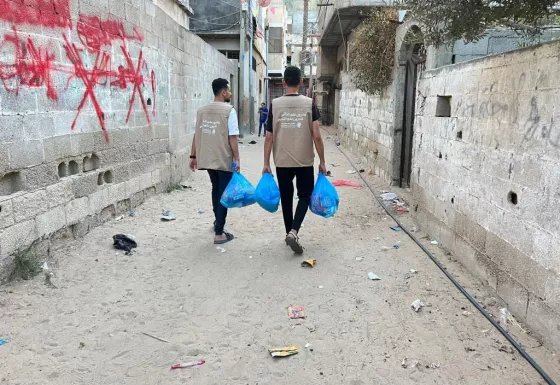 Responding with local partners
Despite these acute challenges, War Child is starting to provide emergency aid via our network of local partners. This week, we distributed 300 hygiene kits to families in Rafah, Khan Younis, Deir al-Balah and beyond in collaboration with non-profit Save Youth Future Society. The kits are filled with everything from soap, sanitary pads and other personal care items.
This will extend to shelter and psychosocial support kits in the coming days.
Plans are also in place to launch a wider emergency response - focused on protection and psychosocial support - as soon as it is safe to do.
In the West Bank incidents of settler violence and attacks by the Israeli armed forces have increased dramatically, resulting in a growing number of civilian deaths - including 32children. Access restrictions are also preventing our staff from moving between villages, meaning the majority of our programmes remain suspended.
Continued call for immediate ceasefire
And that's the reality at this moment. In order for our work to be effective, children need a safe space to begin to heal and process their experiences.
That's why we are continuing to call on world leaders to secure an immediate ceasefire. It remains our only option to avert further loss of civilian life and the destruction of civilian homes and infrastructure.
The delivery of lifesaving assistance, including food, medical supplies and fuel, into Gaza is critical. Even before the current bombardment, access to life-saving healthcare services for children was hampered by a 16-year blockade. 
Take action
#CeasefireNow: Open Call for an Immediate Ceasefire in the Gaza Strip and Israel
Sign the petition