Soleen* was just four years old, when Islamic State (ISIS) forces attacked her village in Northern Iraq. Her parents and three siblings had no choice but to leave everything behind and flee for safety.
Soleen, now 10, and her family live in a camp for those displaced by the conflict. 
Life at the camp is challenging and Soleen's parents struggle to provide for the family. However, upon their arrival Soleen's mother heard about War Child's community centre which has become a safe space for Soleen and her siblings to play, learn and have the freedom to be children again.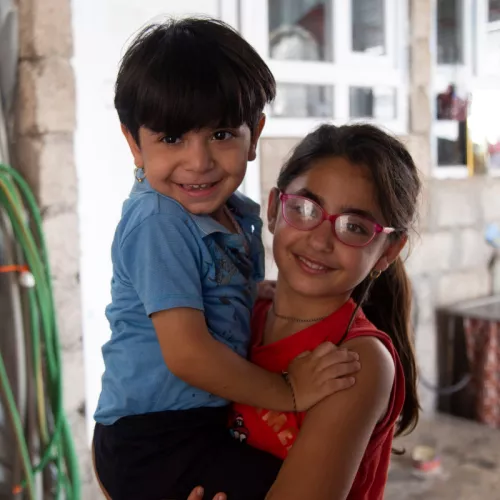 Now I go to the War Child centre and love to learn and play with my friends. I'm so happy I get to learn new things that are important and useful.
Soleen, Iraq.
"I want to study to become a nurse, because I want to do something good for people and at the same time make a living to support my family," Soleen tells War Child. 
"Unfortunately, Coronavirus has caused the centre to close. I know that the virus is dangerous and we have to be careful. It's best to stay at home, to play with your brothers and sisters, do your homework and not go outside.  
"I am sad that the centre is closed, because I cannot play with my friends but on the positive side, we are able to continue our studies on our mobile phones. We have online lessons with War Child on WhatsApp."  
"The children are benefiting very much from the centre," said Soleen's mother. "They have improved a lot and now they even study on the mobile phones since the centre has been closed because of Coronavirus." 
Soleen tells War Child how much she likes the centre and that she never wants to leave. But her mother remembers what the family left behind.
"In the camp, we live from day to day, I keep busy with house chores and taking care of our children. My only wish is to return to our home someday. It has been destroyed by ISIS, and it is still not safe to go back. But I am hopeful."
Help support children like Soleen
Children just like Soleen and their families in Iraq are in desperate need of support. With your help, we can continue to be there for them.
Donate
*Name changed to protect identity.