More than 1,000,000 people have fled Ukraine. The majority are seeking refuge in Poland, but also in Hungary, Slovakia, Romania and Moldova.
At the border crossing in Siret, in northeastern Romania, local volunteers welcomed exhausted refugees, most of them women and children.
"We had to walk to the border and it took a very long time," says six-year-old Platon, who left a suburb of Kyiv with his family while the flat they were living in was shaking from an explosion. "I got very, very cold so put on dad's coat - it almost reached the ground."
While the family waited for five hours amidst the mass of people in front of the border gate, night fell. There was constant shouting; every time the gate opened a wave of people pressed forward and a border guard fired in the air.
It has only been three days since Platon was happy at home in Kyiv, together with his parents, four-year-old brother and two-year-old sister. In a matter of days, his entire world has been turned upside down.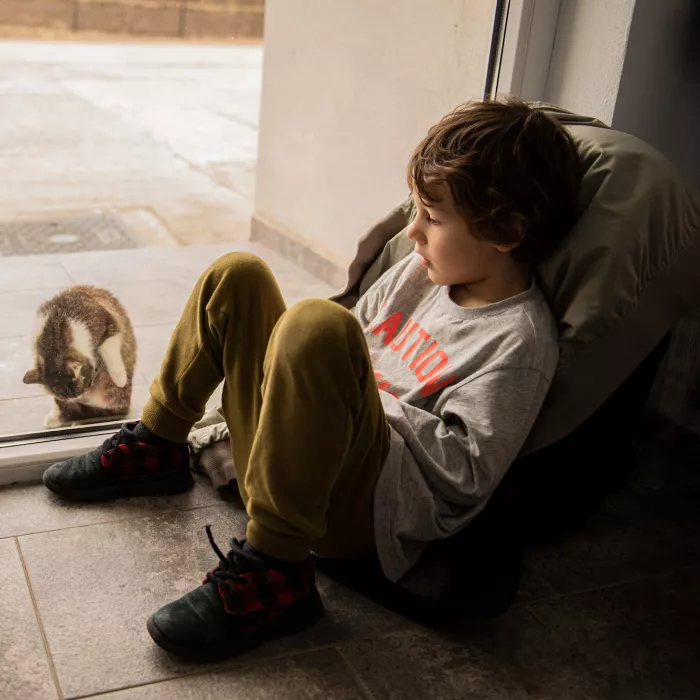 We heard a loud boom that scared us all. It caused the car alarm to go off. Mum and dad threw our suitcases in and we left.
Platon, Ukraine.
Platon and his family have found temporary shelter in a guesthouse in the Romanian city of Suceava. For now they're safe, but they don't know how long for or when they can try and cross the border.
We're on the ground to support vulnerable children like Platon. War Child is preparing to train local organisations in psychological first aid and other mental health services. To address immediate dangers, we will also lend our expertise in child protection, exploring opportunities to set up War Child 'Safe Spaces' in Romania, Moldova and other vulnerable host countries.
There will be an added emphasis on the protection of children, because most of the refugees are women and children, who may be at an increased risk of gender-based violence, sexual exploitation and abuse.
Help support children like Platon
War Child is the only charity who specialise in protecting children in conflict, so our expertise means we can reach children in war zones quickly and offer them and their families the critical help they need. By donating today, you're ensuring we can be there for children in Ukraine, as well as helping us respond quickly to the next emergency.
Donate now
*Name changed to protect identity.