The debate offered a space for discussion on the implementation of the children and armed conflict agenda, with a particular focus on the protection of refugees, internally displaced and stateless children; the abduction of children and its differentiated impacts on girls and boys; and the reintegration of children and peacebuilding. 
As well as telling his story, Patrick presented four recommendations:
"Firstly – Better quality reintegration that really understands the child
Children leaving armed groups need our full support to heal. They need medical care, to be reunited with their families, and have opportunities to learn. Most importantly, communities need to be supported to welcome them. Children leaving armed groups are seen as a threat and more work needs to be done to help people understand their needs and what they have been through. In addition to this, there is a big gap in opportunities for children and young people leaving armed groups. They need to learn new skills and to put them to good use.
Secondly – Greater sustainability
Each year, billions of dollars are given in humanitarian aid, projects are implemented, and then they finish. International Organisation need to collaborate better with the government, national, and local organizations so when projects are over the community and government can take over. I also request that longer-term funding is made available for projects and that local organizations and community groups, including youth, can lead. International NGOs play an important role, but they all eventually leave, whereas we know our issues well and we can make activities more sustainable.
Thirdly – More participation in decision-making of people like me: children and youth
It is great I can speak here today, and I am grateful for this opportunity, but one young person, once a year, is not enough. Young people affected by conflict need more opportunity to participate in all aspects of policy and programming that is about them. Children affected by conflict will soon grow into youth, and many young people are ready to be part of the solution. This will improve the situation in the longer term. There should be more opportunities for participation and empowerment of young people in the UN system and in designing and leading responses.
And finally – Greater accountability
There are already lots of laws to protect and support children affected by conflict, for example the UN Committee on the Rights of the Child, the Geneva Conventions, and the many Security Council Resolutions, which are legally binding. Most countries have agreed to these laws, but they are not respected. They are not enforced as well as they should be at country and regional levels. There should be more accountability for the promises or commitments made. There should be more effort to ensure that militaries, armed groups, local government departments, and anyone who meets a child in a conflict zone know and understand these laws, while those who break them need to be held to account."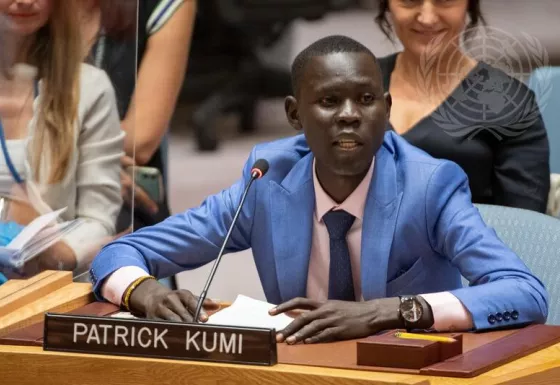 Learn more about VoiceMore
VoiceMore is War Child's youth-led advocacy programme which empowers young people affected by armed conflict to combat issues impacting them.
VoiceMore