To mark the 30th anniversary of War Child and celebrate National Album Day's theme of the 90's, War Child Records are reissuing the iconic 1995 charity album HELP on red and black smoke vinyl limited to 2,000 copies exclusively for National Album Day. Originally mastered by Brian Eno with artwork by John Squire and featuring images from the original recording sessions shot by Lawrence Watson at Abbey Road Studios. 
The album is the perfect snapshot of a golden time for British music in the 90's with indie and underground acts taking over the mainstream. The 1995 album features tracks from Oasis and Friends, The Boo Radleys, The Stone Roses, Radiohead, Orbital, Portishead, Massive Attack, Suede, The Charlatans vs. The Chemical Brothers, Stereo MCs, Sinéad O'Connor, The Levellers, Manic Street Preachers, Terrorvision, The One World Orchestra (Bill Drummond and Jimmy Cauty), Planet 4 Folk Quartet (Andrew Weatherall and David Harrow), Terry Hall and Salad, Neneh Cherry and Trout, Blur and The Smokin' Mojo Filters (Paul McCartney, Paul Weller and Noel Gallagher). 
The HELP album was recorded in a single day and released less than a week later, in a time before WeTransfer, iPhone and email. It raised over £1.25 million enabling War Child to bring emergency support to thousands of children in the Bosnian conflict. No charity album before or since has managed to achieve what HELP achieved and attract such a credible and stellar line-up to create such a relevant, respected and cool album – described by Q magazine as "the best charity album ever made."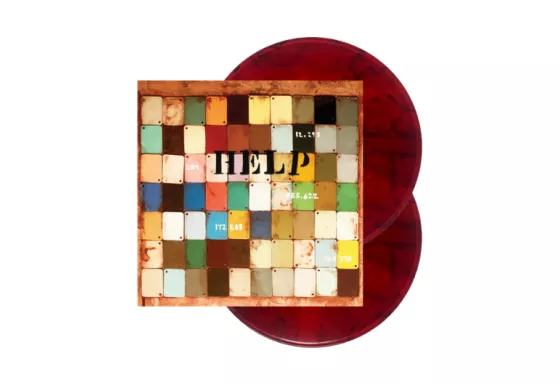 Find out more about the HELP album
The original ambition had been to try and raise £200,000 – but the album went on to make over six times that amount, enabling War Child to support thousands of children affected by the war in Bosnia. Today, the challenge is bigger than ever. Across the world, 1 in 6 children are affected by armed conflict. All proceeds from this release will go directly to War Child to fund their mission to protect, educate and stand up for the right of children living through conflict. 
TRACKLIST 
Side A 
1. Oasis and Friends – "Fade Away" 
2. The Boo Radleys – "Oh Brother" 
3. The Stone Roses – "Love Spreads" 
4. Radiohead – "Lucky" 
5. Orbital – "Adnan" 
Side B 
6. Portishead – "Mourning Air" 
7. Massive Attack – "Fake the Aroma" (alternate version of "Karmacoma") 
8. Suede – "Shipbuilding" 
9. The Charlatans vs. The Chemical Brothers – "Time For Livin'" 
10. Stereo MCs – "Sweetest Truth (Show No Fear)" 
Side C 
11. Sinéad O'Connor – "Ode to Billie Joe" 
12. The Levellers – "Searchlights" 
13. Manic Street Preachers – "Raindrops Keep Fallin' on My Head" 
14. Terrorvision – "Tom Petty Loves Veruca Salt" 
15. The One World Orchestra featuring The Massed Pipes and Drums of the Children's Free Revolutionary Volunteer Guards (aka The KLF) – "The Magnificent" 
Side D 
16. Planet 4 Folk Quartet – "Message to Crommie" 
17. Terry Hall and Salad – "Dream a Little Dream of Me" 
18. Neneh Cherry and Trout – "1, 2, 3, 4, 5 " 
19. Blur – "Eine kleine Lift Musik" 
20. The Smokin' Mojo Filters – "Come Together" 
Re-released HELP album
The HELP album is a phenomenal achievement made possible by an exceptional collaborative spirit. At a time when the charts were dominated by the infamous race for number one between Blur and Oasis, even they were willing to come together to support War Child – "We'll put aside our differences for the cause – and it's the only time you'll see the two of us agreeing on anything" Noel Gallagher said at the time in an interview.
get yours