Royal Academician Conrad Shawcross has made a new work which will be sold for the benefit of the charity War Child's work supporting children affected by the crisis in Ukraine and conflict zones around the world. The print, Study for the Patterns of Absence; Ukraine 11, will be available to purchase for the duration of the Royal Academy Summer Exhibition 2022 from 21 June – 21 August 2022.
Conrad worked with War Child in Bosnia in 1997 when he was 18, painting murals in music rooms, and so has a history of collaboration with this important charity.
Conrad Shawcross said: "In 1997, at the age of 18, I travelled to a war-torn Sarajevo to work for the charity War Child. Seeing the catastrophic effect of war on people and children has marked me forever, and Europe faces a similar if not worse crisis now.  I hope this print can serve as a symbol of protest against what is unfolding and that the money raised will help War Child to rebuild the lives of children in the region. This is a time-based edition so please buy one and spread the word to everyone you know!"
The Studies for the Patterns of Absence are a series of handmade ink block prints in which the artist explores theories of tone, scale, colour and optics. This time-based edition has been made in response to the crisis in Ukraine and contributes to the current theme of adopting the blue and yellow colours of the Ukrainian flag as a form of protest and sign of solidarity with the embattled nation. Adding to the sense of concern, these two optimistic colours are partially obscured or obliterated by a haze of overlaid black dots.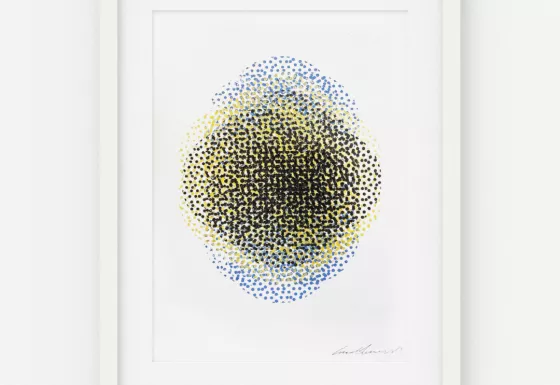 Study for the Patterns of Absence; Ukraine 11, 2022
Ink on paper, signed
42 x 29.7 cm (16 1/2 x 11 3/4 x in)
Time based edition
[21 June – 21 August 2022]
£195 (inc VAT)
Paper generously donated by John Purcell, printing by Omni Colour, sales and marketing by Atelier Plinth and fulfilment and shipping by Kwickpack.