Many will tell you their lives changed eight years ago when the war broke out in Yemen. But my story is different. My husband and I lived a good life in the Al-Barh area. He was earning money even after we were forced to leave our home three years ago. In a heartbeat, everything changed.
I was pregnant with my third child when the airstrike hit and killed my husband, his friends, and my brother. It was the second day of the month of Ramadan. We could not identify his remains. His body was torn into a million pieces. I moved with my children to a displacement camp where my in-laws were staying – but living there was very difficult for me. I cried non-stop and after one year, decided to move again and came here to this camp.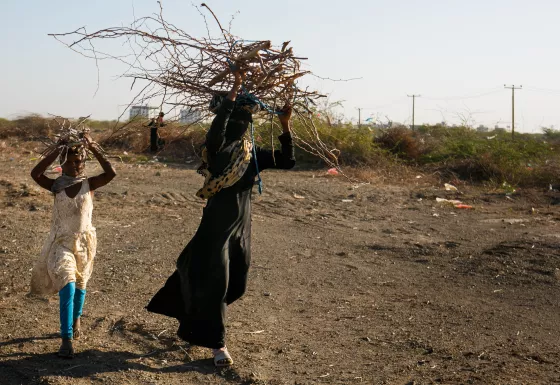 My day starts by collecting wood with other women in the camp and their daughters. We can't afford to buy gas for cooking. After that I bake and prepare a meal for the family and start sewing. I have another round of work after lunch. My eldest daughter, Fatim, who is eight years old, helps me to collect wood and find clients.
I was lucky to have moved because that is how I became aware of War Child and received the support that I desperately needed. The best thing that they did for me was to give me money to fix my sewing machine, which I now use to make clothes and sell them to other women and children in the camp. With the money that I earn I buy medicine for my children when they get sick, and I had Fatim stop rummaging through the ruins to collect scraps for sale. She's now waiting to start school the following term. War Child helped me register her. Meanwhile, she has started to study with the other children at the War Child safe space.
This war destroyed everything. It turned children into orphans and women into widows.
Many people lost their homes and their loved ones. I want a different future for my children. I want my daughter to finish her education and to live a safe life away from harm and suffering.
My daughter remembers the time when my husband took care of everything. She looked up to him as an example of courage. She never complains about anything in our lives now. She keeps saying "nothing is difficult". She's very smart and has been doing well studying the Quran at the centre nearby. My dream is that she would have the opportunity to continue her education so that she can support herself and her sisters one day.
SUPPORT OUR WORK
War Child's work to protect, educate and provide for Yemeni children and their families is more urgent than ever. With your help, we can continue to be there for children like Fatima and her family when they need us most.
DONATE
*Names changed to protect identity.