Hayat's situation  
Since being forced to leave her home in Al Hudaydah, Hayat has been living with her family in a Camp for Internally Displaced People (IDP).  
Her father witnessed her brother and cousin pass away after stepping on an unidentified land mine, as a result he is suffering from trauma and depression. He also has a knee injury which prevents him from carrying any heavy loads and is unable to do any physical work.  
Hayat is one of the main breadwinners in her family. She works collecting empty plastic bottles and cans to sell them and make some money for her family. Hayat is also forced to go out and beg for money, she doesn't want to, but without it her family aren't able to buy food.  
"I feel so lonely and unsupported when I go on my daily routine, but I don't mind going to the dumpster collecting plastic bottles and cans. I do it all for my brothers and sisters. To buy new clothes on special occasions like Eid. My father helps us make a living by working and playing music at weddings, but that is never enough." 
War Child's help  
Hayat's family received 75,000 YR from War Child. They used the money to make sustainable purchases to help their family provide for themselves, buying necessities and two sheep.  
Hayat now takes care of the sheep by taking them out to graze every day.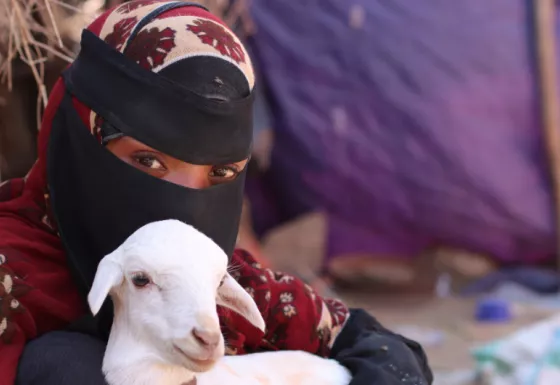 Hayat's future 
Hayat longs for a life where she can enjoy being a teenager, spending time with her friends and having so many responsibilities.  
When asked what she'd like to be able to do in the future she said:  
"I see my brother becoming a young man who helps me shoulder the responsibilities of our family. I also see myself having a kiosk where I sell some products." 
People's Postcode Lottery  
With the help from players of People's Postcode Lottery, War Child have been able to support Hayat and her family to rebuild their lives by opening new opportunities and improving their living conditions.   
We'd like to say thank you to players, without their support we wouldn't be able to support children and their families in Yemen with cash-relief, education support and vocational skills training.  
People's Postcode Lottery
Since 2013, War Child has received more than £20 million from Postcode Education Trust, thanks to funds raised by players of People's Postcode Lottery. These funds will continue to provide a safe future for every child affected by war.
Find out more