We're very pleased to announce that the vinyl re-release of the landmark 1995 HELP album is back in shops as of today, after the initial run of 2020 vinyl sold out on the day of release last month. 
The iconic album, originally launched in 1995, features tracks from Oasis and Friends, The Boo Radleys, The Stone Roses, Radiohead, Orbital, Portishead, Massive Attack, Suede, The Charlatans vs. The Chemical Brothers, Stereo MCs, Sinéad O'Connor, the Levellers, Manic Street Preachers, Terrovision, The One World Orchestra, Planet 4 Folk Quartet, Terry Hall and Salad, Neneh Cherry and Trout, Blur and The Smokin' Mojo Filters (Paul McCartney, Paul Weller and Noel Gallagher)
How you can help 
Since the album was released in 1995, support from music fans has enabled War Child to reach millions of children whose lives have been torn apart by conflict. Today, with the added threat of Coronavirus, our work is more important than ever. A donation from you can ensure we can continue our vital work, keep our services open and continue to be there for the world's most vulnerable children. Donate now. 
What is HELP? 
HELP is a charity album launched in response to the Bosnian War. In 1995 the inter-ethnic conflict had taken the lives of 250,000 people and displaced a further two million. Those fleeing the bloodshed - ordinary men, women and children - were left with nothing, and little hope their lives would ever return to normal. 
Tony Crean, International Marketing Manager at Go! Discs, along with music industry experts Anton Brookes, Terri Hall and Rob Partridge wanted to do something to support families - and fast. They put their heads and contacts together to create the ground breaking HELP album, in aid of War Child. 
The support from the artists was incredible. Taking time out from their busy schedules, they recorded the entire record in just 24 hours. In a pre-digital time when the only conflict the UK music industry cared about was Blur versus Oasis, even they were willing to come together to support some of the world's most vulnerable children. 
"We'll put aside our differences for the cause - and it's the only time you'll see the two of us agreeing on anything" - Noel Gallagher said in an interview.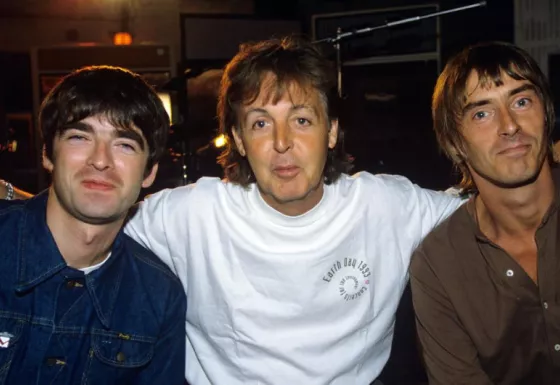 The album was a huge success. 
With such a legendary line-up, how could it not be? In a time before The Cloud, iPhones and email, HELP raised over £1.25 million to transform the lives of children caught up in the Bosnian War. 
A quarter of a century after its original release, we're relaunching the HELP album to raise vital funds for War Child's lifesaving work responding to the Coronavirus pandemic. 
Want to know more about how the album came about? Hear about its history in the podcast Help - the Story of the War Child Album, narrated by Matt Everitt, told through recollection from the artists involved and the people that made the record. Listen here from 9th September. 
Where can I buy HELP? 
The HELP album will officially launch on 9th September - exactly 25 years after its original release. 
For the first time ever, you'll be able to download or stream HELP on digital platforms. 
Or you can buy one of our special remastered anniversary edition, 180g double vinyl LPs. Our initial release of 2,020 copies sold out in a day - make sure you don't miss out! 
This reissue includes never-before-seen photos by world renowned photographer Lawrence Watson of the recording session with Paul McCartney, Paul Weller and Noel Gallagher at Abbey Road in September 1995. 
 Buy it now https://warchild.lnk.to/Help25So 
Why War Child? 
War Child's mission is to protect, educate and stand up for the rights of children caught up in war. 
In 1995 the HELP album meant we were able to reach millions of children impacted by the conflict in Bosnia. At the time, we responded with what children needed the most. We provided prosthetic materials for artificial limbs, built premature baby units, supplied mobile health centres and distributed school meals. 
In 2020 War Child's work is still crucially needed. As the Coronavirus pandemic impacts countries all around the world, children living through conflict are some of the most vulnerable to the devastation. We are limiting the spread of the infection where we work by using PPE and distributing hygiene kits, providing essential food packages to the hardest hit families and using specialist helplines for children who might find themselves alone or vulnerable to abuse in these new circumstances. Where schools have closed, we are providing home education kits which mean children without books or basic stationary at home can continue to learn and play. 
War Child is still striving for a world with no child's life torn apart by conflict. As Coronavirus makes our work more difficult, we are committed to finding solutions that continue to put children's needs first. You can help us be there for even more children around the world. Just £28 could provide critical support for two children who call our helpline because they have nobody else to turn to during the pandemic.