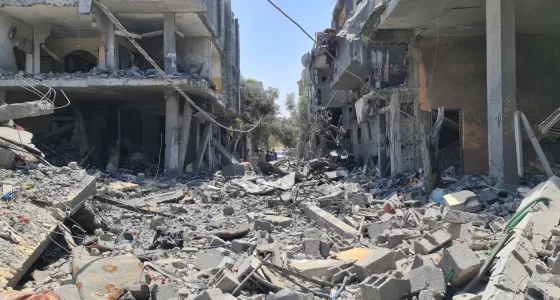 Donate
Children in war zones urgently need our help
Around the world children in war zones are living through horrific and terrifying fighting and violence. War Child is dedicated to keeping children safe. Whether it's food, shelter or mental health first aid, we work in the hardest to reach places ensuring children and their families have access to the things they need most. But right now, more children than ever are living with conflict, and we need your help to keep them safe. 
Donate now
No child should be part of war. Ever.
The situation for children living in war zones is extremely grave.
In Yemen, the brutal ongoing conflict means millions of parents are without an income and unable to meet their children's most basic needs, like food and water.
In Ukraine ongoing fighting, deadly explosions and drone attacks have left innocent children traumatised.
And in Gaza and Israel children have been abducted, killed and injured in ways barely imaginable.
These are just the crises we hear about on the news.
War Child believes that no child should be part of war. Ever. Our dedicated staff are working around the clock in conflict zones all around the world to keep children safe. But there are thousands of children who still need us, and we can't do it without you.
Please, donate today.