If you were to meet 15-year-old Frederique* in his hometown in southern Central African Republic (CAR), you might assume he's like any other teenager: he's friendly, chatty and adores football. But it's hard to comprehend what he's been through.
One day Frederique was studying at school when the students were suddenly sent home: the militia were coming.
Frederique and his family wanted to run away. But they couldn't leave their cassava supply - their main food source - unprotected.  
The soldiers forced their way into the house. They tied my mother up. They wanted to steal everything, but my big brother resisted, so they grabbed him and dragged him outside the house. He lay down, then they told him to turn his chest upwards. Once he turned his chest upwards, they shot him in his heart.
Frederique, Central African Republic.
"My mother cried out and attacked the soldier who shot my brother. They shot her right away."
The soldiers drove away with all the cassava, leaving just Frederique and his younger brother behind. Frederique went to live with his aunt in a displacement camp. But the scarcity of food, and the injustice of seeing his family killed in front of him, soon drove him to join a local militia group.  
It's estimated that tens of thousands of children are in armed groups around the world. Some of those who join willingly are searching for food or security; others are hoping for education or status.  
Thankfully, this was not the end of Frederique's story. French forces came and disarmed the group and Frederique returned to his aunt at the camp. 
Life is difficult in a displacement camp, and child-friendly spaces like War Child's become a lifeline. Children of all ages, some who have seen the worst atrocities imaginable, can play, sing, and dance, as well as take part in sports and learning activities.  
It is here that Frederique can be found at his most carefree, kicking a ball around.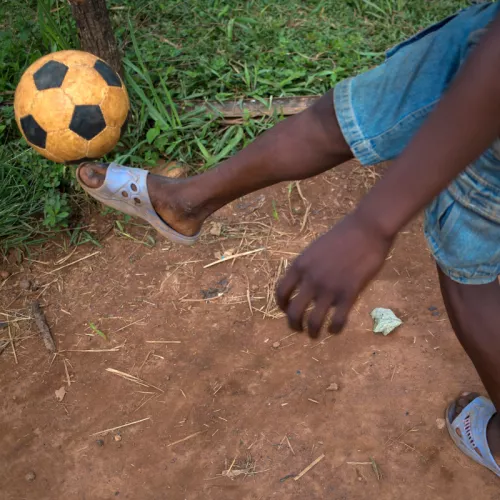 I am happy I can go to the War Child child-friendly space and participate in the activities. When I am there, I can forget my troubles for a while. When I see other kids playing football, I can't sit still, I have to join them. I just love playing football, it's what makes me happiest.
Frederique, Central African Republic.
Keep children like Frederique safe
With your help, we can create more life-saving safe spaces and support networks for vulnerable children like Frederique to keep them safe, help them learn and cope with their experiences and equip them with skills for the future.
Donate
*Name changed to protect identity.